PRODUCT
TP-G4

TP-G4 Premium Connection
Sizes: 5in~14in
High performance gas-tight special connection for casing.
l Stepped thread is easy to make up.
l Chamfering on the top of the tooth for anti-collision design.
l The rear sealing structure provides high anti-over torque ability.
l Hooked thread can achieve the 100% strength of the pipe body.
l Compression efficiency can reach 100% of Pipe Body Yield Strength.
l Reliable gas-tight sealing under any kind of combined loads.
l More reliable than other premium connections to use in the horizontal wells, extended reach well and high compression condition.
Hook Buttress Thread
Taper=1:16
CSG: 5in~9-5/8in: 5T.P.I.
9-7/8in~14in: 4T.P.I.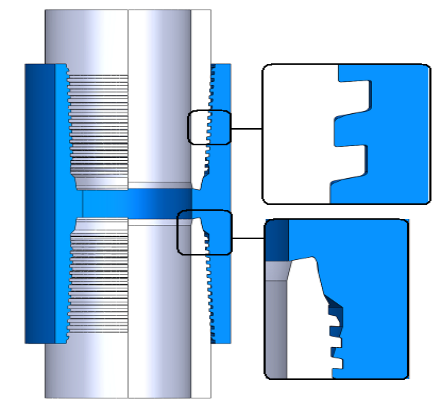 Double Seal,Metal to Metal Seal
Tapered pin and box seal
Reverse Angel Torque Shoulder
Internal flush
Application:
High torque.
High compression resistance.
Large bending angle.
1. Description
1.1 Threaded Connection
The tooth profile design meets the golden section ratio, which has a uniform and harmonious proportion relationship between the contour dimensions, and also has stable mechanical structure and excellent bearing performance.
The bearing side adopts negative angle design, excellent connection performance, bending resistance and compression resistance, reaching 100% performance index.
1.2 Sealing Structure
Metal-to-metal seal structure. It adopts rear sealing structure design, The compression resistance of the joint is improved, especially in the case of over torque.
The reliability of the sealing structure is improved by adopting the main and auxiliary double sealing structure design.
The non equivalent interference design of the primary and secondary seals is adopted to highlight the advantages of the main seal.
1.3 Torque Shoulder
The main and auxiliary double shoulder structure design, the main shoulder provides accurate buckle positioning, and the secondary shoulder plays a role under over torque and high compression to better protect the integrity of joint sealing structure.
1.4 Internal Profile
The streamlined internal profile minimizes turbulence and energy loss when high-velocity gas flows.
1.5 Coupling Design
The coupling performance meets 100% design requirements, and the outer diameter design is consistent with API standard,
1.6 Lower Stress Design
The lower stress design makes the connections reliable in Corrosive condition.
2. Finite Element Analysis on TP-G4

Circumferential stress.
Finite Element Analysis graphically illustrates the low-stress design which makes TP-G4 excellent choices for critical well applications.
VME envelope application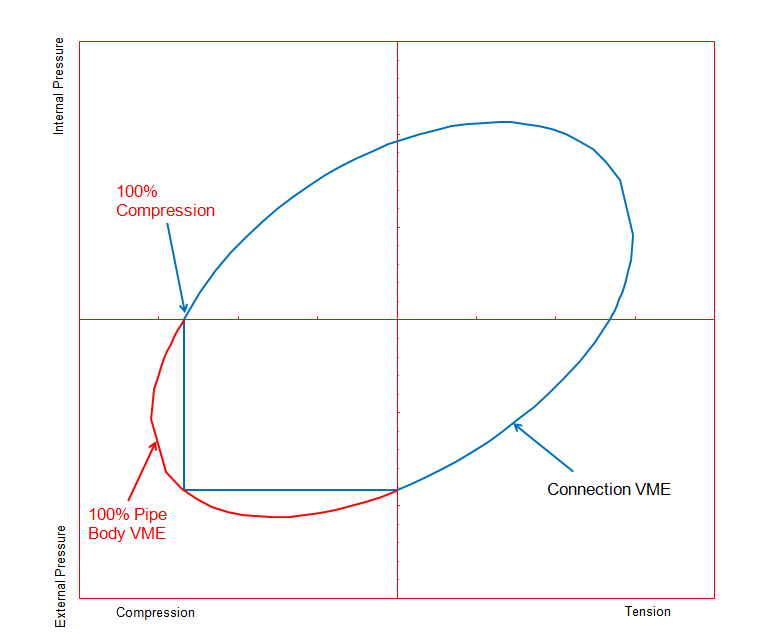 3. Test Report
3.1 Qualification Test @ TGRC
TGRC=CNPC Tubular Good Research Center

3.2 Qualification Test @TPCO

4. Performance of TP-G4 Connection