PRODUCT
Corrosion Resistance Casing

Corrosion Resistance Casing
TPCO provides a complete range of steel grades for all kinds of oil and gas operations. To improve the corrosion resistance for the demanding conditions of particular oil and gas wells, TPCO has developed a variety of proprietary steel grades that extend the life span of pipe products reducing corrosion rates
- Sour service
- Sweet service
- Corrosion Resistant Alloy (CRA)

TPCO Product Table for corrosive environments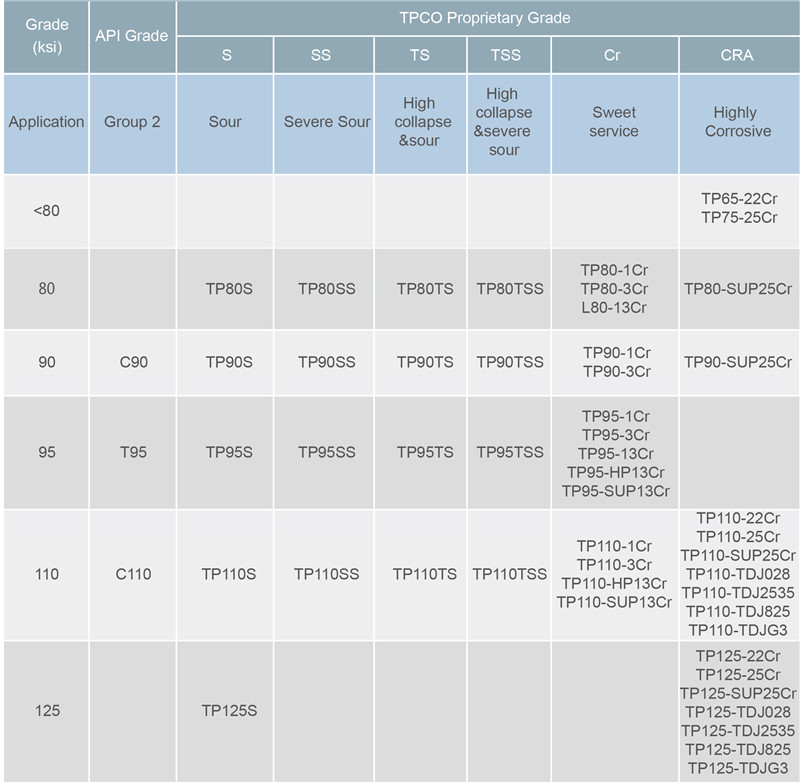 Material selection guidelines and their applications to corrosive well.
This material selection chart helps you choose the appropriate material for your application depending on H2S and CO2 partial pressure, and temperature range in the well.If you need more details,please contact TPCO for finer material recommendations.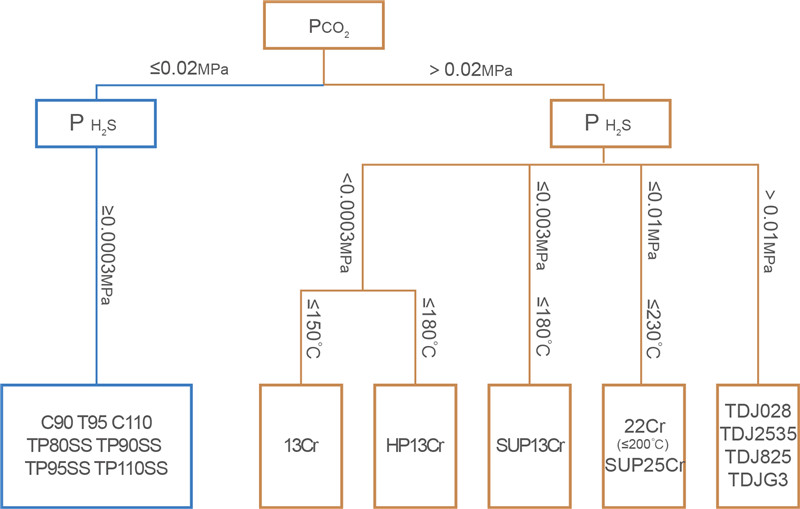 TPCO offers a full range of standard API and proprietary grades covering most of the the needs of the OCTG industry. From standard applications to the most severe environments, TPCO is your worldwide guarantee for quality and reliability. Check out the grade summary table below and material selection chart inside to find out what grade will best fit your need.

Sour Service

API steel grades
TPCO manufactures all API steel grades including all the additional Supplementary Requirements (SR) and/or Product Specification Levels (PSLs).

API standard sour service grades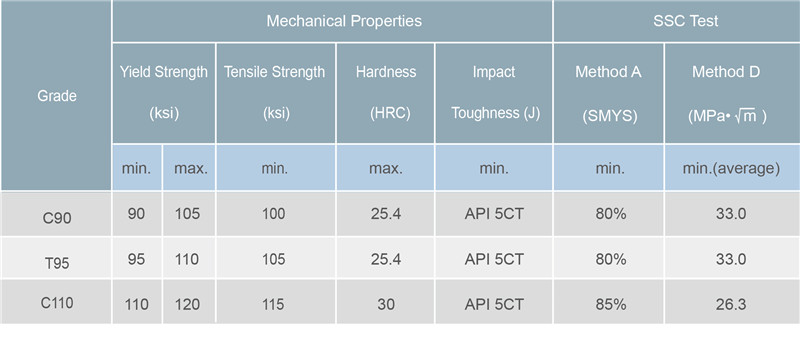 C90, T95 and C110 are the dedicated API grades suitable for sour service environments. They comply with the following requirements:
· Chemical composition
· Grain size finer than ASTM 5 (C90 T95)
· Grain size finer than ASTM 6 (C110)
· Hardness limitation
· NACE tests (TM 0177), methods A or D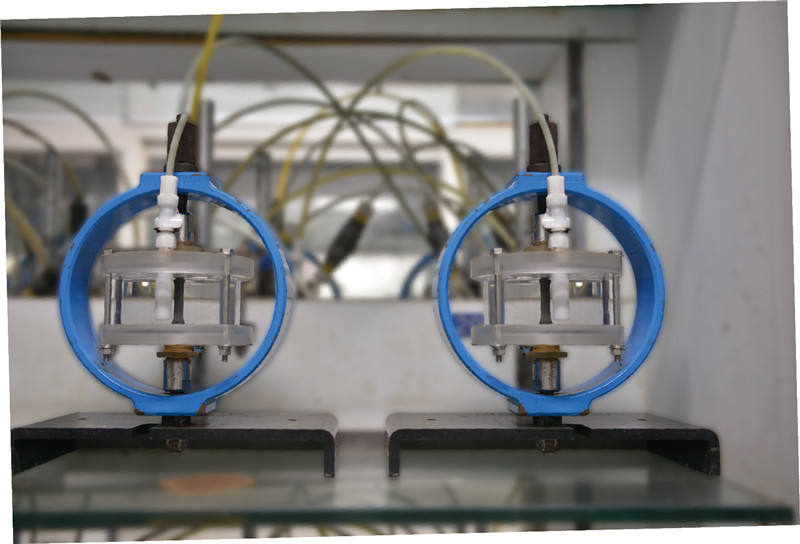 TPCO proprietary steel grades
Sour service grades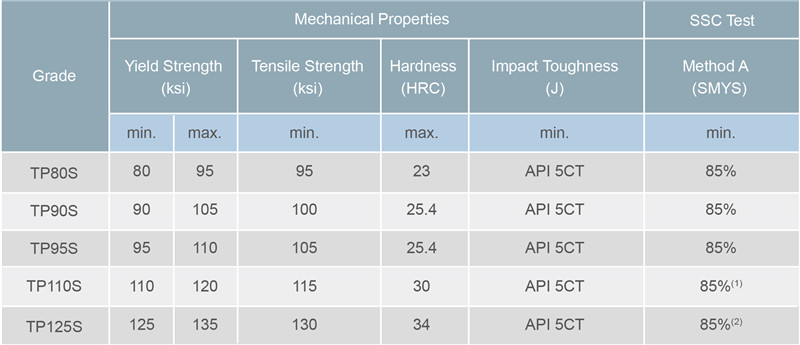 (1) Method A, Solution B, the H2S partial pressure is 10% atm
(2) Method A, Solution B, the H2S partial pressure is 3% atm

Severe sour service grades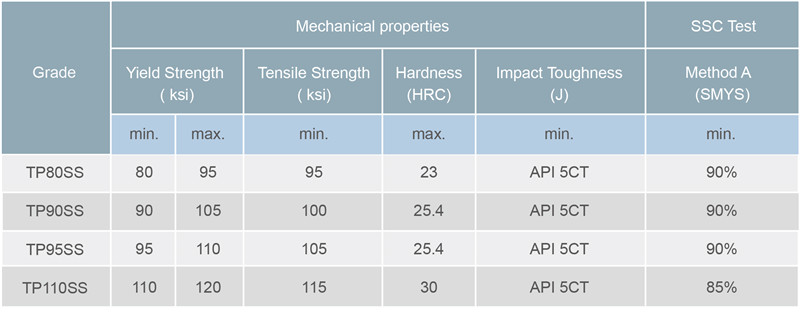 High collapse & sour service grades
TPCO proprietary products combining High Collapse and Sour Service.
TPCO offers a complete range of OCTG High Collapse grades, to meet the most challenging collapse conditions of well environment and load cases scenarios.
(1) Method A, Solution B, the H2S partial pressure is 10% atm
(2) Method A, Solution B, the H2S partial pressure is 3% atm


High collapse & severe sour service grades

Sweet Service
The growing demand of energy has resulted in a general need to produce fields with a tangible CO2 content. In most conditions when the partial pressure of CO2 is above 0.02 MPa, carbon steels present high corrosion rates. Steel grades alloyed with high contents of Chromium (Cr), Molybdenum (Mo) and Nickel (Ni) are able to effectively resist corrosion.
TPCO can offer 1Cr, 3Cr and13Cr tubular products. The sweet corrosion service series can be divided into:
· Low chromium pipes
· Martensite stainless steel pipes
Low chromium pipes

TPCO can offer a cost effective alternative in case of mild sweet corrosion.
Low chromium grades are carbon steel designed for improved performance in mild sweet corrosion environments. The performance can be further improved when combined with TPCO's premium connections or a proper inhibitor program.
Low chromium grades also being used in water injection applications, as a good improvement for carbon steels, although retaining some of their limitations. The corrosion film, although not producing complete protection, provides a higher resistance level when compared with standard API L80 grade, always in combination with a proper water treatment in order to provide controlled dissolved oxygen levels in the injected water.

Martensite stainless steel pipes
In oil and gas fields for future development, gas which includes CO2 is an increasingly common occurrence. Corrosion has become the major problem for fields with more severe conditions such as high temperature and containing not only CO2 but also small amount of H2S, TPCO developed HP13Cr and SUP13Cr material which has higher strength and outstanding anti-corrosion property.

TPCO's 13Cr series is a martensitic stainless steel which has high performance in such kind of corrosive condition. SUP13Cr can be used in mild sour conditions. HP13Cr and SUP13Cr have better performance with regards to corrosion resistance and excellent low-temperature toughness.

Corrosion Resistant Alloy (CRA)

Manufacturing process
These CRA materials are needed when there is a combination of the following factors: presence of CO2, presence of H2S, low pH, chlorides and high temperature.

CRA products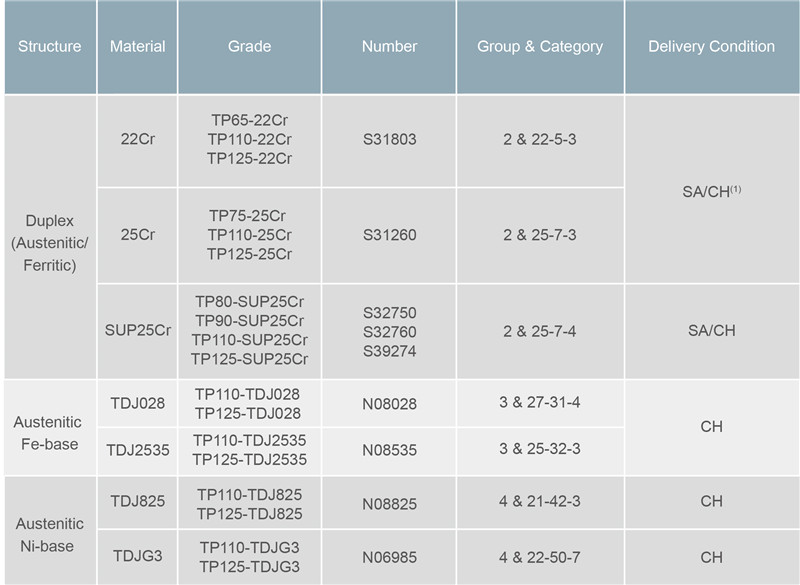 (1): SA: Solution annealed
CH: Cold hardened

Specified mechanical properties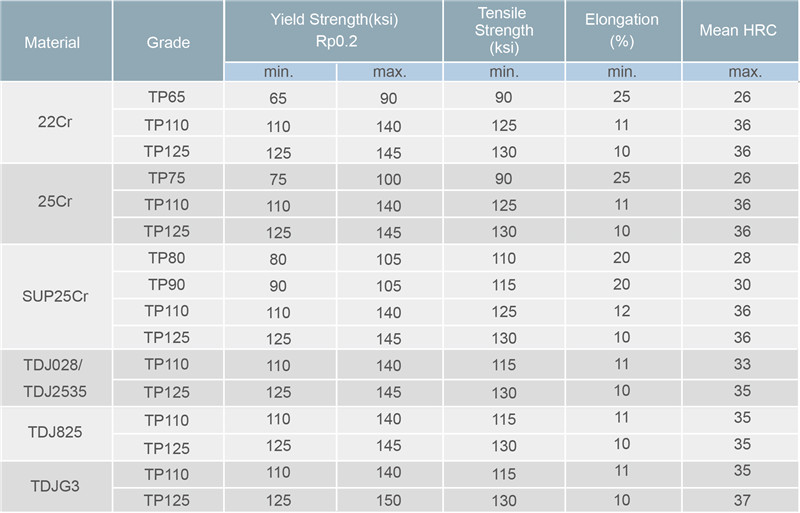 Handling, packaging, storage for CRA pipes
· As per ISO13680: Petroleum and natural gas industries-Corrosion resistant alloy seamless tubes for use as casing, tubing and coupling stock-Technical delivery conditions.
· As per Q/TGGB30-2010(mill specs) :TDJG3 Ni-base alloy pipe Handling, packaging, storage-Technical conditions.